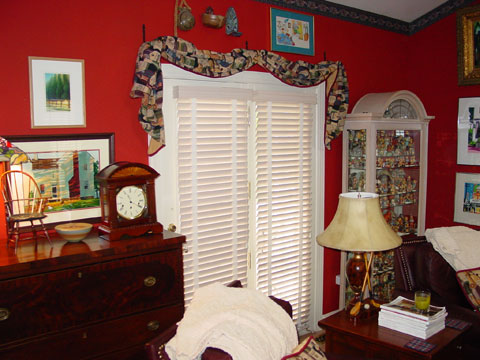 2″ Wood/Faux wood Blinds
Hunter Douglas' PowerTiltâ"¢ motorized tilt system easily tilts slats open or closed by remote control. It's a battery-operated, wireless system that controls blinds from up to 50 feet away and can operate three separate window treatments.
Graber AutoMate® 2″ Tilt Systems (battery powered)
The AutoMate 2″ Horizontal Tilt System tilts blinds open or closed by means of a hand-held remote control, a Dusk/Dawn Sensor, or a small push button switch located in the upper left corner of the blind head rail. AutoMate does not lift blinds. Available on all Graber 2″ horizontal blinds, except for Lake Forestâ"¢ faux wood blinds, or specialty shapes.
The AA lithium battery-powered motor delivers effortless operation for up to five years, depending on operation. The hand-held remote operates blinds from up to 50 feet away, allowing for easier operation of blinds in tall windows, hard-to-reach windows behind furniture, and those above sinks or bathtubs. It also puts operation within reach of the elderly or physically impaired.
Graber also offers a premium radio controlled lift & tilt system (24 volt wired) that can be operated by a hand held remote or a wireless wall switch. This system requires the blinds to be hard wired to a 24 volt transformer. This system can operate 4 blinds individually and 1 group or 5 blinds individually.